Quarry Bank Cheapest ever Winter Rate Only £150.00 per angler per week!
Quarry Bank has now reduced their prices right down for those who wish to escape for a winter break at the pool that doesn't freeze and keeps a constant temperature throughout its depths due to the incredible length Neil shipman has gone to in order to offer a true 365 days a year chance of connecting with his Quarry Bank fish.
We asked Neil to explain further how he had managed to achieve this rather unique scenario. This is what he had to say…
"Well, you asked me to tell you a little more about the water system, and I will be having a day on Tuesday to see if I can find the fish and catch one as you asked for a picture, they are still showing so this is helpful.
When we first purchased the lake we obviously checked the water quality etc and it was quite a shock the water temperature was quite normal at the surface 14c but at 12 m it was only 4c and there was a very noticeable thermocline. The oxygen levels to the first 3 metre down was in 9mg/l range which was great, but below that, it rapidly decreased and getting to the last 2m it was almost void of oxygen 0.14 mg/l.
I contacted Mark and Steve at Zoo Aqua and a plan was formulated and equipment sent out to us and the result of this was that I installed approximately 200 metre of Surface Airline to the rock face and 300 metre of Limpet Sinking Airline plus 4 air diffusers and 2 1/2hp air blowers.
The diffusers were spaced out in the lake to enable them to overlap as close as possible when they are in use. They were placed on the bottom in approximately 12 metre of water, roughly 80 metre apart.
Anyway to the operation and difference they have made to the lake.
The system was connected to one of the air blowers and run for a few hours per day to slowly mix the water. If it we had run it continuously to start with, it could have totally wiped the lake out, due to sudden drastic changes in temperature and oxygen crashing due to the diffusers releasing the trapped gas in the silt. After about 2 weeks, the smell of gas had gone, so had the thermocline and the oxygen was finally stable.
Basically what the system does is to keep all the water mixed and the temperature and oxygen levels as constant as possible throughout the whole depth both in winter and summer. Another added benefit that we have found is that it helps to suppress the algae and when the system needs a boost I simply connect air blower number 2.
Each diffuser turns over (lifts) approximately 120 m3 of water which is about 120 ton of water per hour so when they are all put into motion that is nearly 500 ton of water per hour. This is the reason that Quarry Bank does not freeze and the oxygen levels and water temperature remains constant throughout the year. This has also brought an end to the thermocline and cold spots in the water which are such a problem on many other waters when trying to catch fish off the bottom that are never going to drop down there.
This system does not affect the fish,  in fact when you scan the lake with the sonar,  fish can be found in the water column in fact when its first turned on we have a catfish that always launches itself out of the centre of one of the diffusers. The temperature today (Monday 18th November 2019) is an average of 13.6 c from top to bottom and the oxygen is an average over the depth of 9.6 mg/l. Just in case we did get any ice wanting to form, I have a surface splash air unit which moves approximately 3200 litre of water per hour and oxygenates/aerates approximately 1 acre radius, plus the surface ripples spread out way much further preventing any possible ice forming.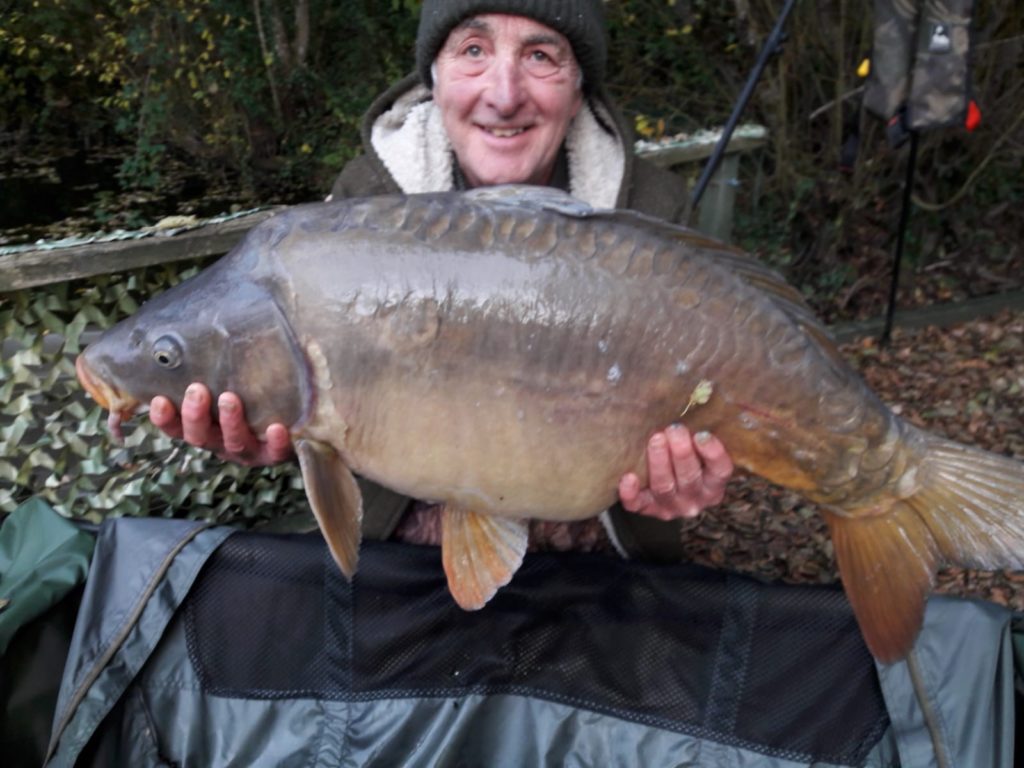 Well I hope you can understand that, it had me a bit baffled at times but now so glad we installed everything we did. Quarry Bank is now healthier that it ever has been in its life and as you know, the fish are doing real well.
Best regards
Neil Shipman"
Footnote: Neil went out yesterday as he promised and landed a 34.04 on a Quest Baits Rahja Spice with a Pimple Pop topper. A classic winter catcher.