This trip had been in the making for three years, ever since Tim Pike, Nigel 'Fennel' Hudson and I met up for the first time at the Red Lion hotel in Bredwardine, during a traditional 'Priory' week-end of angling, and socialising on the River Wye organised by Fennel.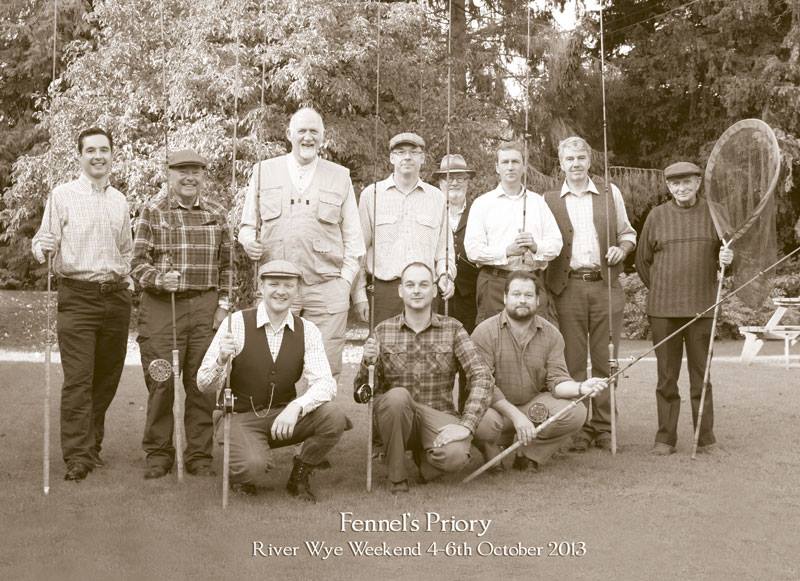 We had each travelled from different parts of the country. We had totally different upbringings, completely different types of job, we couldn't really have been more different, but all got along so very well, right from the very start. Angling so very often does this, bringing the unlikeliest of people together. There are no limits and zero boundaries; we find ourselves mingling with all ages and nationalities meeting so many people that normally our paths would never have been crossed at all. But in angling we are brought together as equals.
This 'being unaware' of obvious differences in age or whatever, used to really hit home to me during my years at the shop, when mates would send in their wives and girlfriends for me to help and guide them towards the right Christmas presents.
I would often be working in the back and someone would come through saying there is a lady asking to speak to you. I would walk through and the introduction would be along the lines of…
"Hello, I think you know my husband, he told me to ask for you".
I would look at them and think no, did I hear right. This old lady is married to my mate?
Then I would come to my senses and the reality would dawn as I realised for the first time that yes, my mate was that sort of age too, yet it would never have dawned on me previously.
But alas, as usual I have let my fingers tap the words out, following my thoughts, rather than sticking to the intended plot.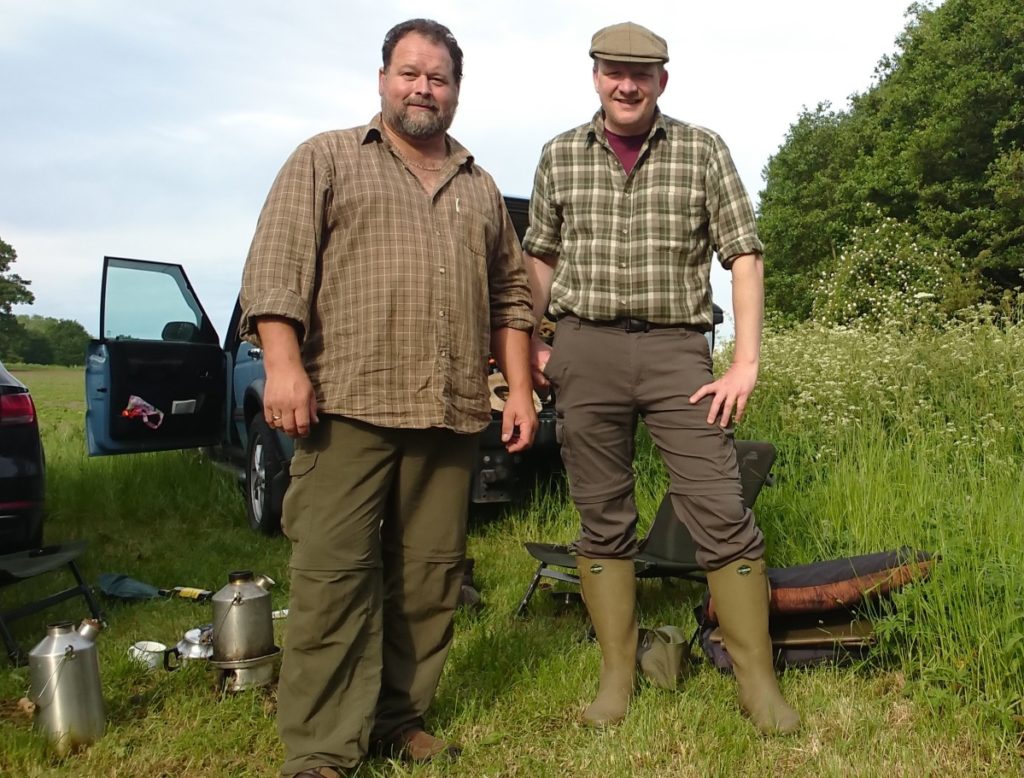 I had fished with and cooked with (we both love outdoor cooking) Fennel a couple of times in the intervening years. But, the timing had never worked out to meet back up with Tim, until this year that is. We decided we 'had to' make it happen, but unfortunately the only week our triangle could join and close in together was what I warned would be a poor angling week. The moon phase in my opinion was about as bad as it gets for action, although during these periods there is always the chance of a big old fish slipping up, whilst the younger shoal fish huddle in safety.
It was decided that the getting together, was going to be far more important than the catching of fish and soon we had the inevitable WhatsApp page going called 'Wine cheese and carp fun'.
Looking back on it now, there's a books worth of banter on there, from the early planning, to the day of arrival, to the banter across the Quarry during the week and on. It's now 3 weeks ago and we are still at it on there.
Remember the classic book 'Drop me a Line', which was put together from a collection of letters to and from Richard 'Dick' Walker and Maurice Ingham. Well, we almost have a 'Drop me a WhatsApp!
Did I say Quarry?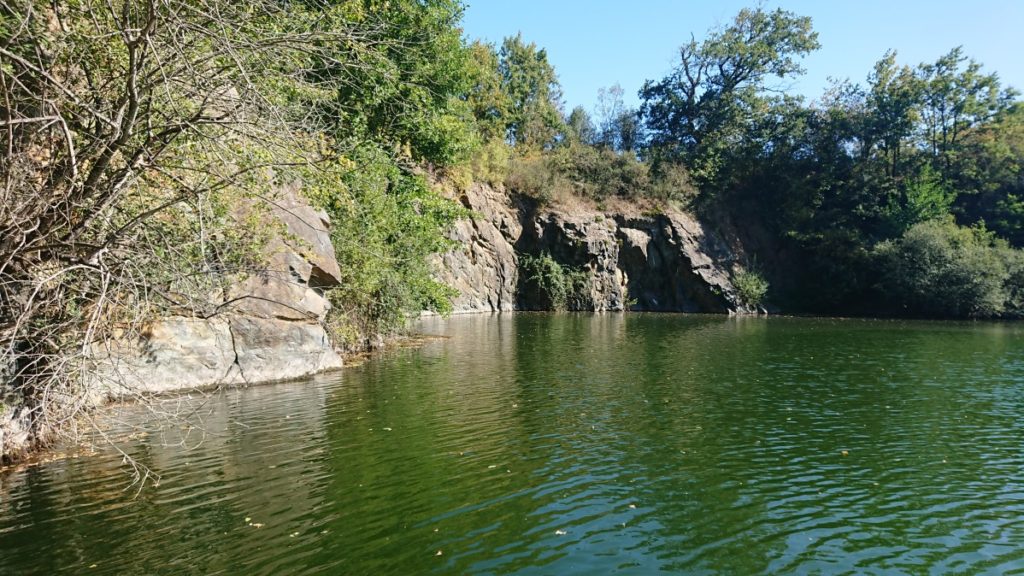 Well, it was decided after much discussion that the ideal place for a total relaxed and chilled out week, where it wouldn't be important to fish 24/7, would be Quarry Bank Fishery situated well away from any built up area in the beautiful rural Deux Sevres region of France. A venue I'd visited before, but not previously fished. I'd gone out to capture a little film footage and stills shots for Dream Fishing Holidays last year and had instantly fallen in love with the place.
Fennel and Tim are both traditionally minded with a love of the simple and relaxed ways of life and both are motivated with a great passion for the history of angling. This often leads on to using vintage tackle at times, when the situation allows it.
Now I have fished with a fair few so called traditional anglers over the years, as I also have a fondness of using old gear, but the more I have gone down this route, the more I have realised that a lot of the old gear quite simply isn't up to landing some of the fish I angle for these days, even if I could manage to get a bait close to them in the first place. So, I use traditional cane rods and centrepin's when the situation allows. Sometimes I use my centrepin reels on more modern rods when I know that the cane will be stressed far too much and probably not come out of the battle straight.
Then sometimes I have to add a fixed spool reel and so it goes on to being happy to use a big pit reel and long casting rods if that is what is required for me to stand a chance of hooking and landing the fish I wish to catch. It doesn't change my state of mind. I still have a huge passion and take great excitement playing fish and experiencing the fights my old angler/writer heroes experienced, but if something else is required. If my old reels don't hold enough line to reach where the fish live, then I will use a newer reel to get the job done.
The more successful traditionalists I have fished with have never been scared to reach for modern gear when the situation demands it. They are realists that know it to be irresponsible and unfair on the fish to stand the moral ground, just because they have declared themselves traditional anglers.
I have said for years that the important bit is in the head, not what tackle you use or how you choose to dress. I see so much falseness with anglers simply dressing up and play acting for a short period, whilst they have some old gear scattered around them. As soon as they get back into their new Japanese cars, all thoughts of a traditional way of life seem to miraculously disappear.
Now there is nothing wrong with this of course, but it does get my back up how some can so look down their noses at someone who dare use tackle that has a more than 50/50 chance of landing a fish.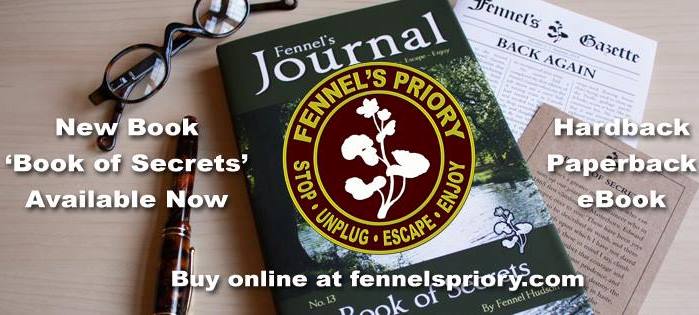 Fennel's message of stop, unplug, escape, enjoy and relax, which is the Fennel's priory motto, hit a note with me several years back and that started the contact. Soon I was invited to a traditional style Priory weekend and thus this trip a few years later. The bond, other than angling, was our traditional outlook and our preferred ways of doing things, even if it was not always possible to follow our preferred route and Quarry Bank to me conjured up the images painted in such eloquent written words from the pen of BB (Denys Watkins Pitchford) whilst he wrote about Beechmere.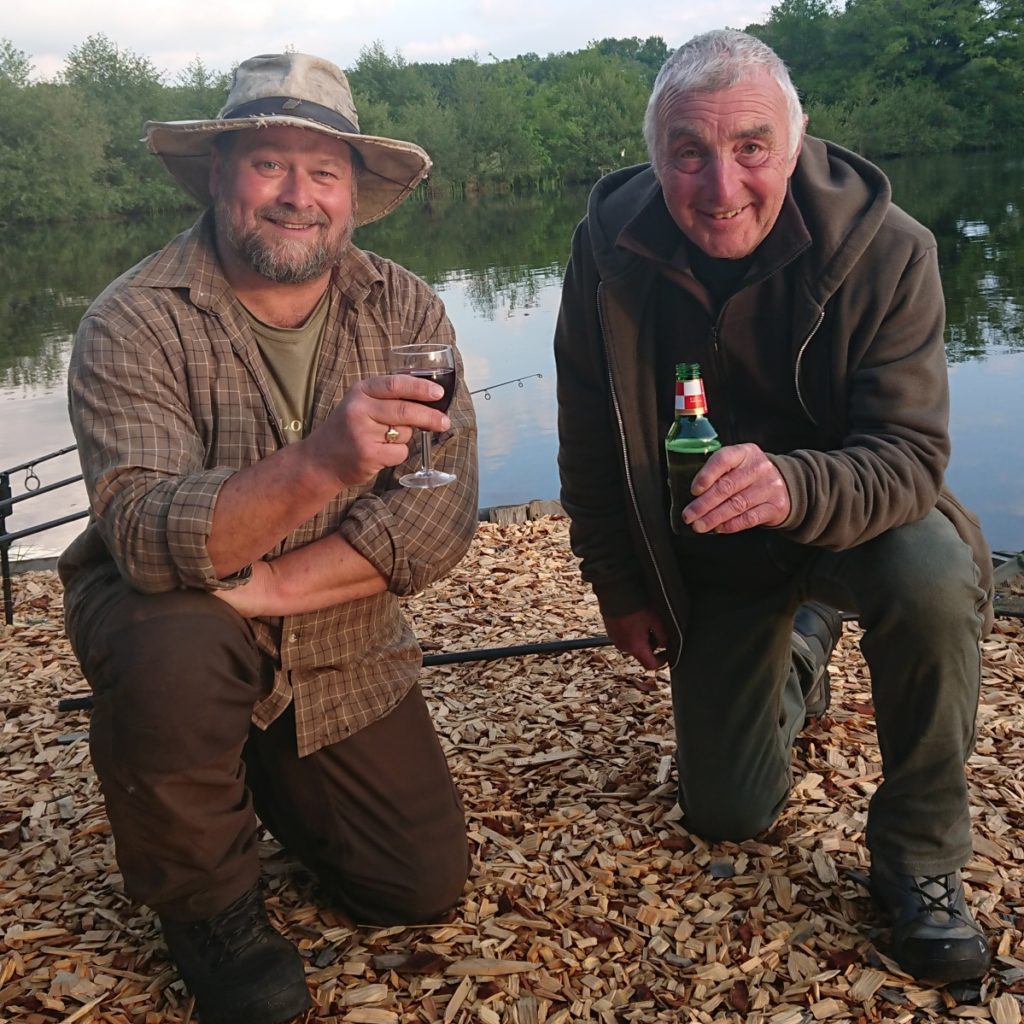 So it was to be our 'French Beechmere' we were to be visiting and the person behind Quarrybank is my friend of over 40 years Neil Shipman, another very traditionally minded angler.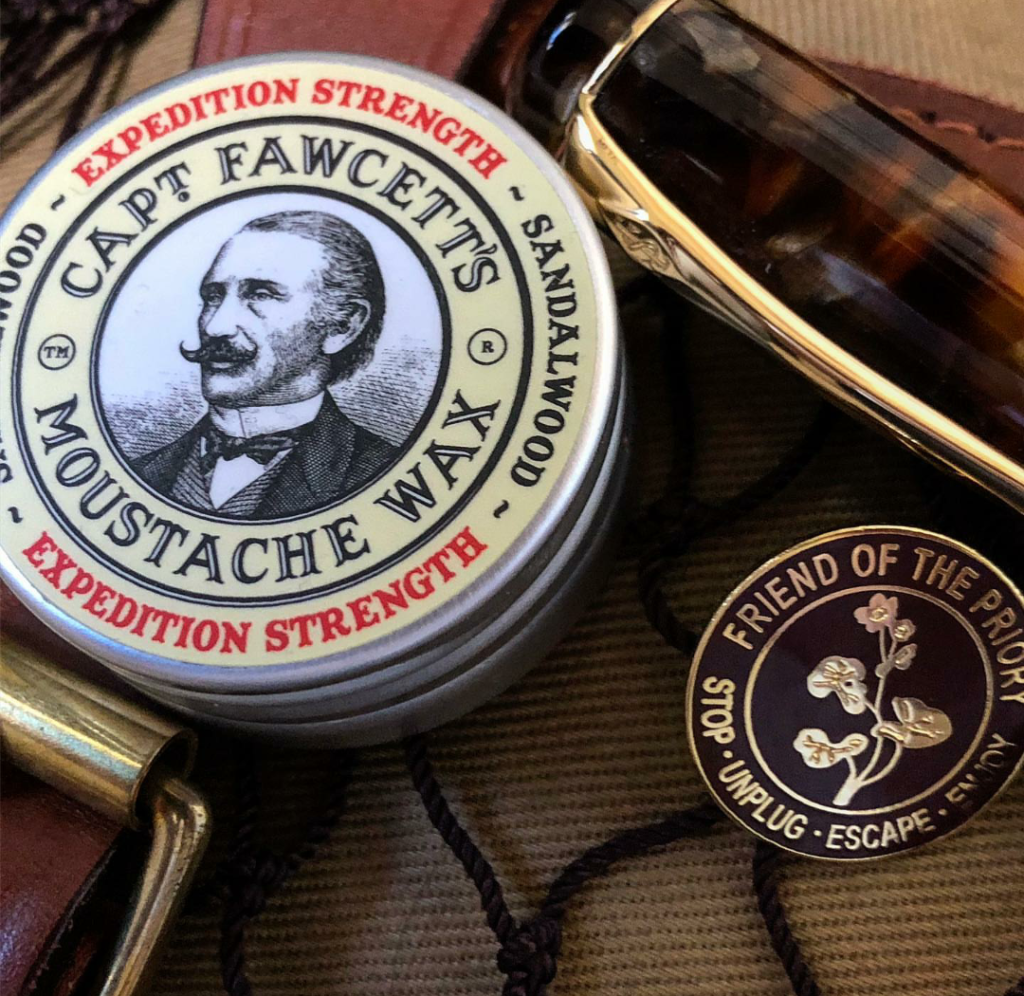 As I mentioned above, there was much talk before this mini expedition. How much tea we should take, are we all taking a teapot or sharing, what would be the best travel moustache wax? (Fennel chose a special expedition strength one) and other vitally important things like that.
Eventually the day came, Tim was flying out from the south coast and sounded like he had chartered his own plane with a team of Sherpas lined up to carry all of his essentials. Meanwhile Fennel came and picked me up en-route to East Midlands Airport. After tea by my pool, we were off on our adventure.
Time now for a few warnings here, if you have never flown to a fishing destination before or indeed booked your own flight. It had not occurred to me that this was new territory to Fennel. He is more than used to flying, but his PA usually arranges everything. He just turns up at the airport and everything is normally in place. It never occurred to me to warn him about pre-booking carp parking spaces and to book in and sort the boarding passes on line, before leaving home, to save the final £50 charge per passenger if they end up having to print your boarding pass for you at the airport.
Yes, we messed up. By not paying for parking up front we ended up having to park a long way away. Not fun when you have a 20 kg and 2 x 10 kg bags strapped around your neck as well as the life support machine I have to carry with me at all times. That bag weighs several kilos too.
Anyway, we lugged our gear to where we needed to be to check in. Got to the end of the silly long zig zag queue and then got turned away when we came to book our luggage in because Fennel hadn't realised he was supposed to have already sorted the boarding passes.
So, another long queue as others had obviously not realised either than back to the zig zag queue again. The intention had been to have a leisurely meal at the airport as we had allowed ample time, but now there was simply no time so it was off to the inferno that E.M.A. refers to as their departure lounge. It was over 20 degrees outside those big glass windows goodness knows how warm it was inside.
Ah well, I'm used to flying cattle class, but I think the whole experience was a bit of a novelty shock for Fennel. He did mutter to me how much he had flown but this was only his second flight that had not been business class. This made me smile and I couldn't help mention that I hoped we got a seat and didn't have to stand in the middle aisle for the flight.
A little bit now about what you can carry on board as hand luggage and what you can't. I always carry my reels, cameras and alarms but make sure to take your spools off and pack those in your main luggage. You can't take fishing line in your hand luggage as you could garrotte someone with it. Similarly don't take a catapult in your hand luggage. I had a rather embarrassing incident at Birmingham airport when they thought I was going to hold the plane up with my Trev Tomlin Whopper Dropper catapult as was way back then. Just think twice, anything that could be used as any type of weapon has to be packed in your booked in luggage so that you can't get your hands on it during the flight.
The flight was smooth until the landing, but we survived and eventually the doors of our plane opened at Limoges airport to a warm blast of 30 plus air. Yes, it was official, we were on holiday.
Through customs, baggage collected and into the lounge area where Tim was waiting after taking an earlier flight. It was great to finally meet up again in person. Next job was to collect our hire car. A little tip here also. If you are hiring a car for the first time, thoroughly inspect it and take a picture with your phone of any minor damage before you drive off in it. There are more than a few people that have lost their deposits, because of someone else's damage.
With the car handed over to us, we then had to try and work out how we were going to squeeze all our gear in. We had each taken advantage of an extra 20 kilo bag on top of the 10 kg Priority carry on, plus hand luggage stuffed to the absolute max'. The Renault Captur was bulging, Tim was half drowned in canvas bags, I had a bag under my legs in the front, plus bits on my knees but finally we were on our way with a stop off at the supermarket. Just to grab some emergencies you understand, as being a Saturday, the supermarkets would not be open the following day. An hour and 300 Euro lighter, the emergencies had contained a fair few luxuries as well. I don't think it occurred to us until we walked back out on the carpark that the car was already full and now we had an overflowing shopping trolley to empty into it as well! We literally ended up feeding our shopping into any available gap bit by bit as the supermarket didn't sell roof racks.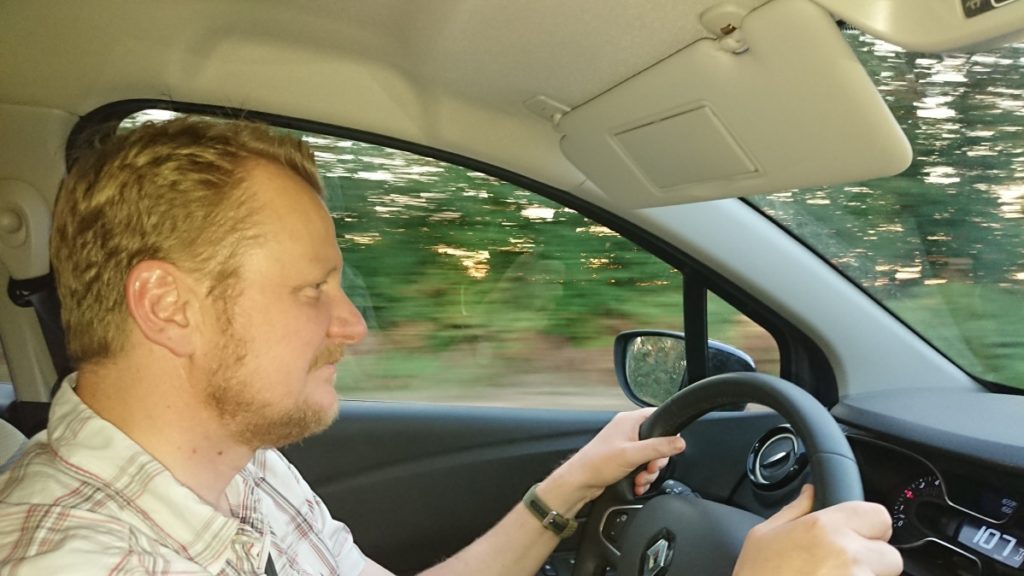 Back on the road the sun was setting as Fennel drove for his first time on the other side of the road. All was going well until we reached a road closed sign and no obvious diversion. The little lady in my Tom Tom I'd remembered to take kept trying to take us back to the same bit of blocked road. It's a wonder she didn't start swearing at us or start sulking, after the amount we ignored her.
A bit of clever (or we thought so) navigating by the setting sun along miles of small country farm roads and eventually we managed to get back on the road we were supposed to be on. Good job really as the sun had gone out by this stage. Note to oneself take a proper map as well next time.
Neil's wife Lin had prepared us a beautiful welcome meal as we had said we would not fish the first night but simply sleep under the stars weather permitting, taking in the atmosphere of the place. We would wait until daylight before worrying about assembling our gear, there was no rush, we were on holiday and all for differing reasons, really needed this break.
We felt so guilty turning up much later than anticipated, but were forgiven. It was a great evening sat around the big farmhouse style kitchen table and was truly looked after as though we were royalty.
Sometime in the small hours we wandered out to a beautiful star studded sky to get a few hours' sleep before the sun re-appeared. I sat on my bed, reached in my bag and offered a nightcap from a lovely heavy peat Irish single malt I had picked up on my way through EMA. Tim stayed in bed and was soon in that other world whilst Fennel and I sat up chatting. The glasses were re-filled a couple more times and suddenly the sun was rising and the bottle was empty. We had chatted all through the night.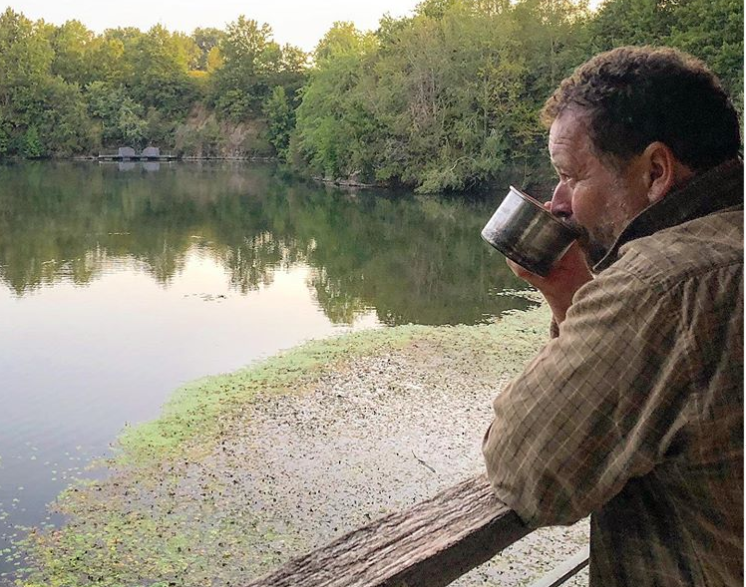 Tim was still asleep so not wanting to disturb him we went to look over the pool from the beautiful pagoda, whilst leaning on what was once part of the Redmire dam rail. It was Fennels first view of the water and he was clearly than impressed, even if he could see two pools and two of everything else.
The day was spent looking around, getting our bearings, choosing swims and then finally assembling tackle. It really was a full on day and it wasn't until the sun was finally setting again that I was making my first casts. I had not slept at all. One of the reasons this break came at such a perfect time for me personally was that earlier in the week I'd had all of my weekend fishing gear stolen, including all my cooking kit and so on. The week had been awful. I'd been scraping around trying to get some essentials together for this trip and with not having new terminal tackle bits turning up until just before we left I had no rigs tied at all. So the day had been spent preparing the bits that would usually have already been sorted.
Finally the week of banter, good food and chilled out angling, in one of the most relaxing locations I have ever been, began.
Quarry Bank is such a mysterious place. Four years on after buying the place, Neil and Lin are still spotting fish they never knew they had, including different species they have never seen anywhere else before. They even have freshwater jelly fish swimming around! Earlier this year a shoal of fish around the 10 lb mark flaunted themselves in front of them for a day or so before disappearing again. Neil thinks they may have been asp but can't be sure until someone hooks and lands one. They regularly see grass carp well in excess of 50 lb – again, no-one has caught one. What we do know for sure though, because of captures, is that the place holds 50 lb plus carp and 3 lb plus roach!
I started fishing for the roach the first day and my first bite was a personal best!
The depths go down to 40 ft so it seems to take forever for your lead to hit bottom when compared to most UK lakes, but the carp feed in the deepest water there. Due to an aeriation and filtration system Neil put into place, there are no dead stagnant areas and it also allows him to mix the water up with the added bonus of no massive temperature change from the bed of the quarry, to the surface. Another added bonus to all this is that it stops it freezing over in the winter, so a true 12 months of the year venue.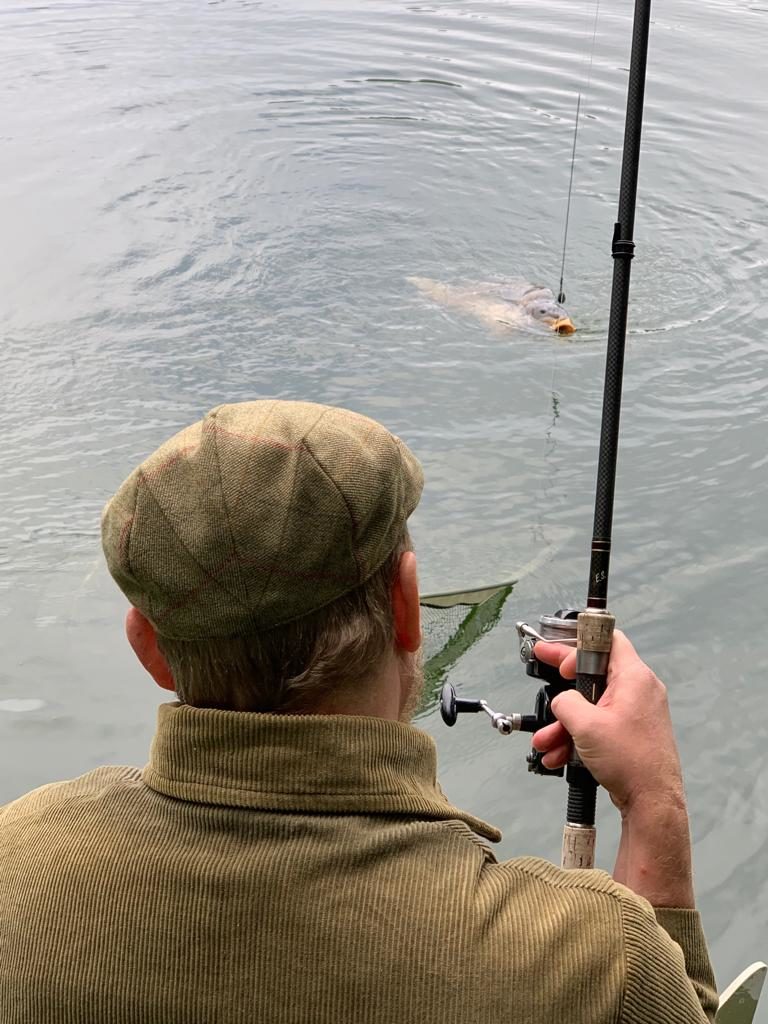 Carp wise Fennel was first off the mark doing battle in real deep water using an ancient Mitchell reel. He landed the fish but said straight away that the reel wasn't really up to the job he'd asked of it as he felt cogs were slipping whilst playing it.
Tim had some real bad luck the first night hooking two big fish. One cut him off on some unseen underwater rock and the other one his hook straightened. I had a real short encounter with one, but it came free. At least we had baits we knew they would eat (Quest Baits Spicy Spirulina and Rahja Spice) and rigs (combi Rigs with pop-ups) we knew would catch them out, but more importantly, we each had a spot we knew they were happy to feed in that we could build upon.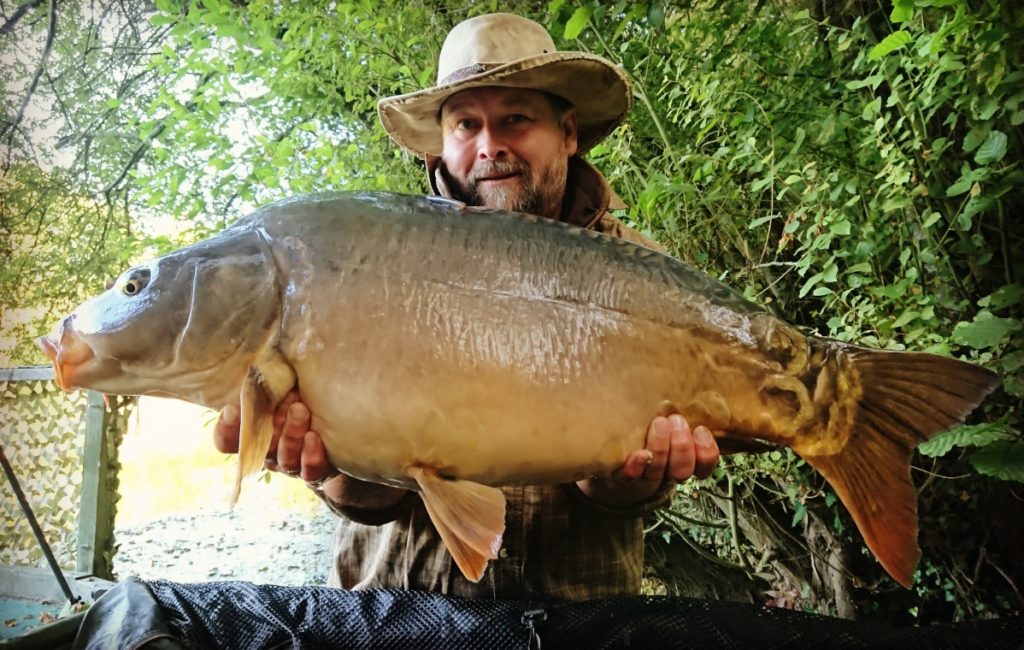 I won't go into a blow by blow account of each fish hooked as we all read that sort of thing all the time. The trip was more about 3 friends getting together somewhere totally secure and quiet, where we could do very much as we wanted, without pressure to do anything at all and with a bit of angling thrown in as well. It might sound odd to those who know me well, as someone who just can't usually get enough fishing in, I actually spent a big chunk of the week not even cast out, but enjoyed the lounging around, chewing the fat and swapping tales.
Neil and Lin really couldn't do enough for us and by way of a small thank you, we took them out to their favourite eating place on the Friday lunch and reminisced on what had been a truly great break, a break that had actually taken very little organising, apart from my last minute ordering of replacement tackle.
I wanted to experience the full fly in scenario to Quarry Bank rather than the drive down. There is full kit available for hire, so all you need to take yourself is reels, alarms, terminal tackle, head torch and sleeping bag. The rest is already there for you, including quality bivvies that are already set up in carpeted swims – yes you did read that right. The flat boarded swims are carpeted with outdoor carpet, which cusions footfall and dropped items of tackle, keeping all much more silent. Landing nets, weigh stations, scales, bed chairs, small chair, bivvy table, table lamp, kettle, stove, hand towel, water and carp care kit are all there waiting for you – don't forget a lighter for the stoves.
Bait wise there are boilies, prepared particle and pellet (the same pellet as Neil supplements their natural food with when anglers aren't there) all available to buy from Neil's on site tackle den.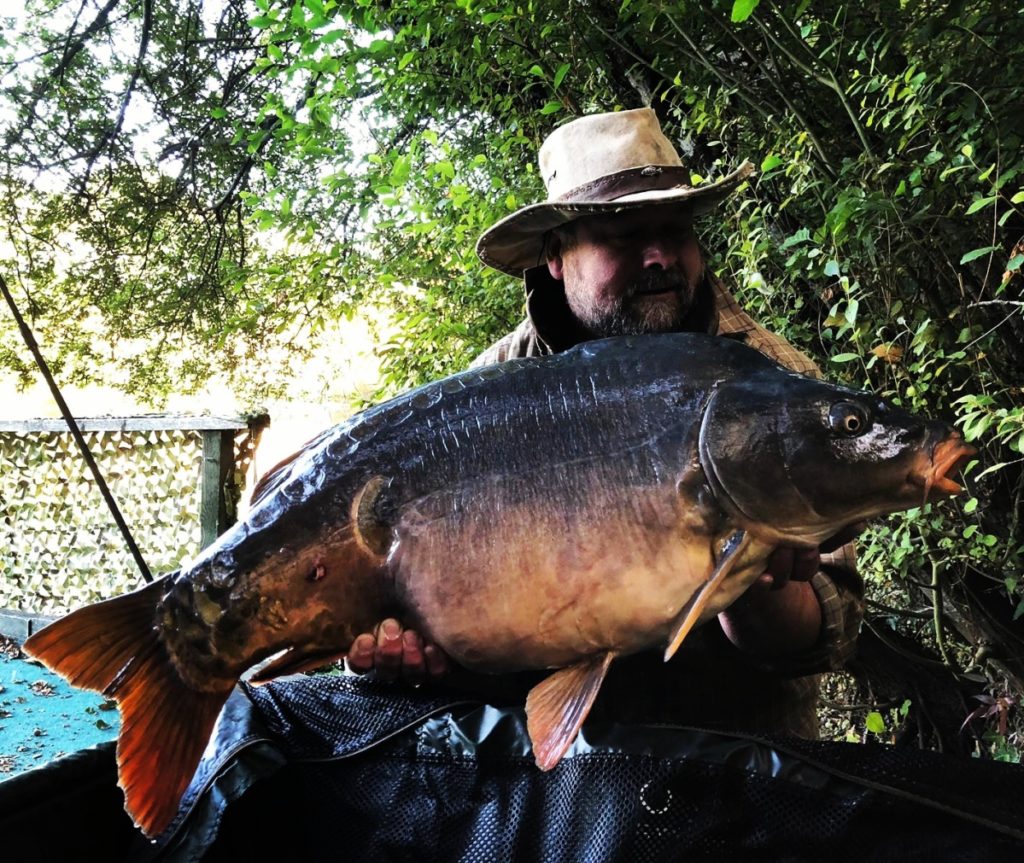 I am used to using top end gear and never once felt I was using inferior gear to what I would usually use. The fish above was on one of my centre pin reels on one of the fisheries rods.
The lovely thing about using the gear provided is that if your week ends with bad weather, then you don't have to pack all that wet gear back into your motor should you decide to drive there. You can leave most of your gear at home.
We never saw any sign of any wet weather during our week and most days the temperature hit 30 c plus. Adilly appears to sit in its own climate. Rain was forecast a couple of times but it never came. Both Neil and Lin commented that they couldn't remember the last time it rained and the landscape as we drove to the restaurant very much confirmed this.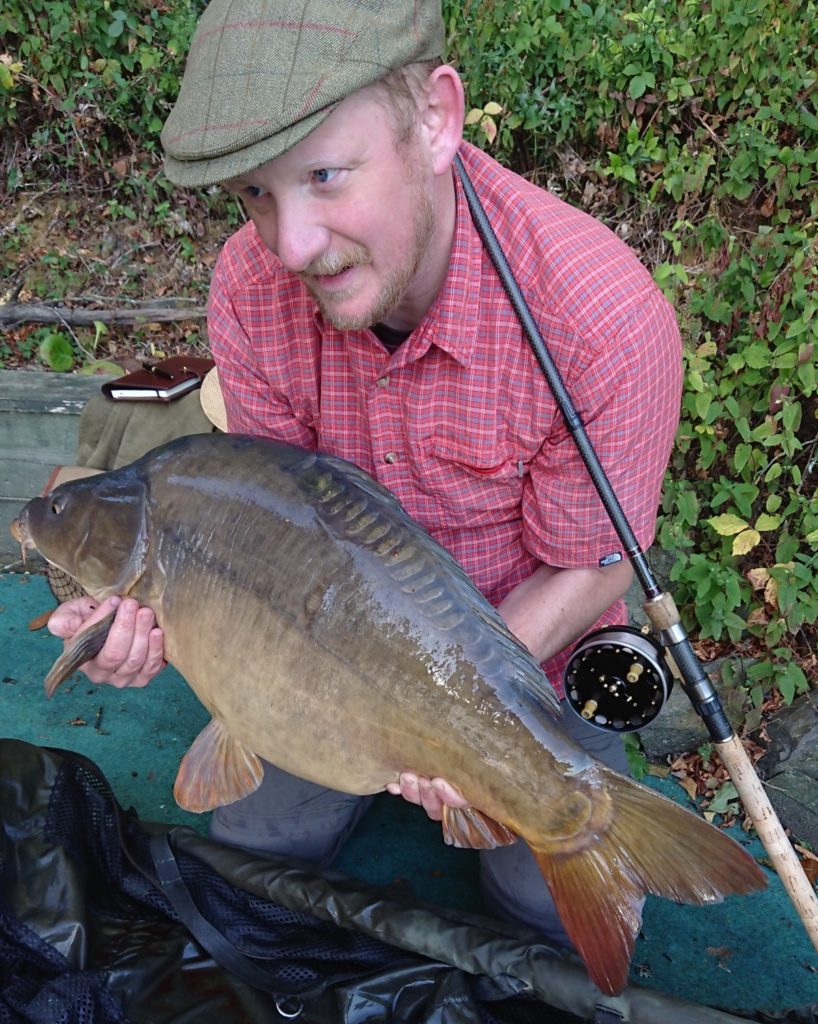 Would we go again? You bet we will. Would I choose to drive or fly next time? I think I would fly and save all that time, fuel and tolls. Thanks to the budget airlines, flights can be booked for silly money – if you book them early enough.
In conclusion I had predicted a tough week moon phase wise. That combined with searing heat and a bit of an algae bloom did make things difficult, but we all got stuck into carp.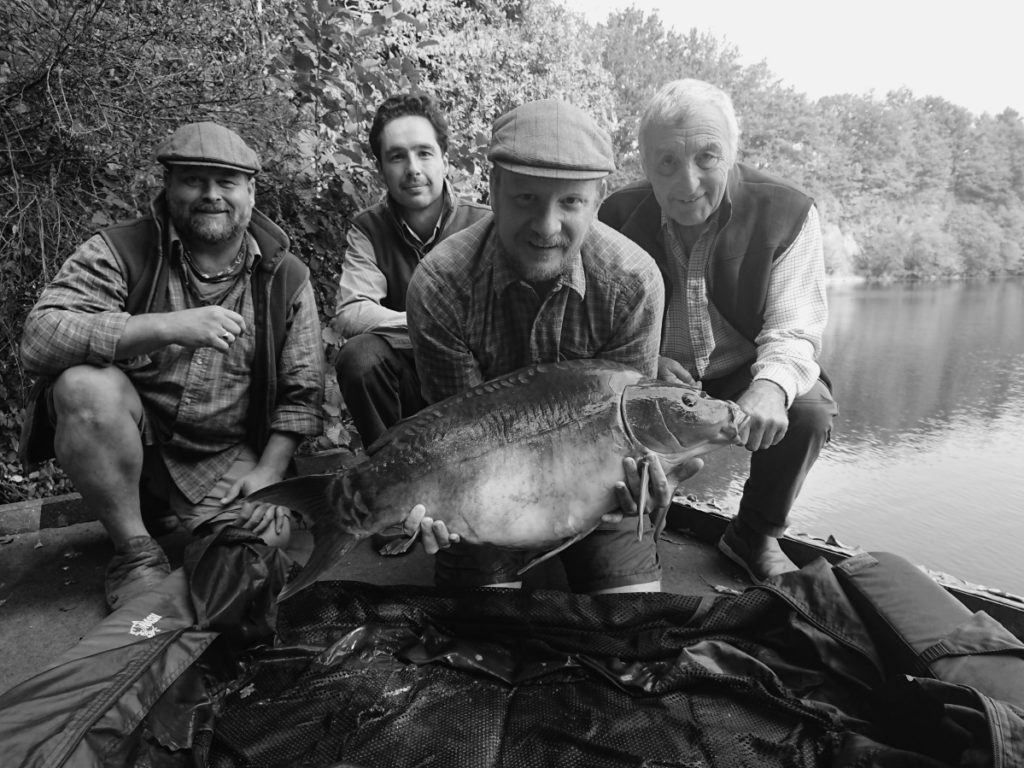 The wildlife at Quarry Bank is really abundant and the highlight for a lot of U.K. anglers would probably be the red squirrels as we see so few now in the U.K. There is also a whole host of different birds coming and going. Neil and Lin have very much encouraged this and discreet nesting boxes can be seen tucked away to encourage more. Most it would appear are moved into almost straight after putting them in place. It was a particular delight to watch the kestrels each day feeding their young.
I spent time both float fishing and feeder fishing for other species and was rewarded with 5 different species in very little actual angling time.
Back home in good old Blighty, Fennel and myself found the nearest Indian restaurant to the airport and finished our holiday reminiscing over a curry.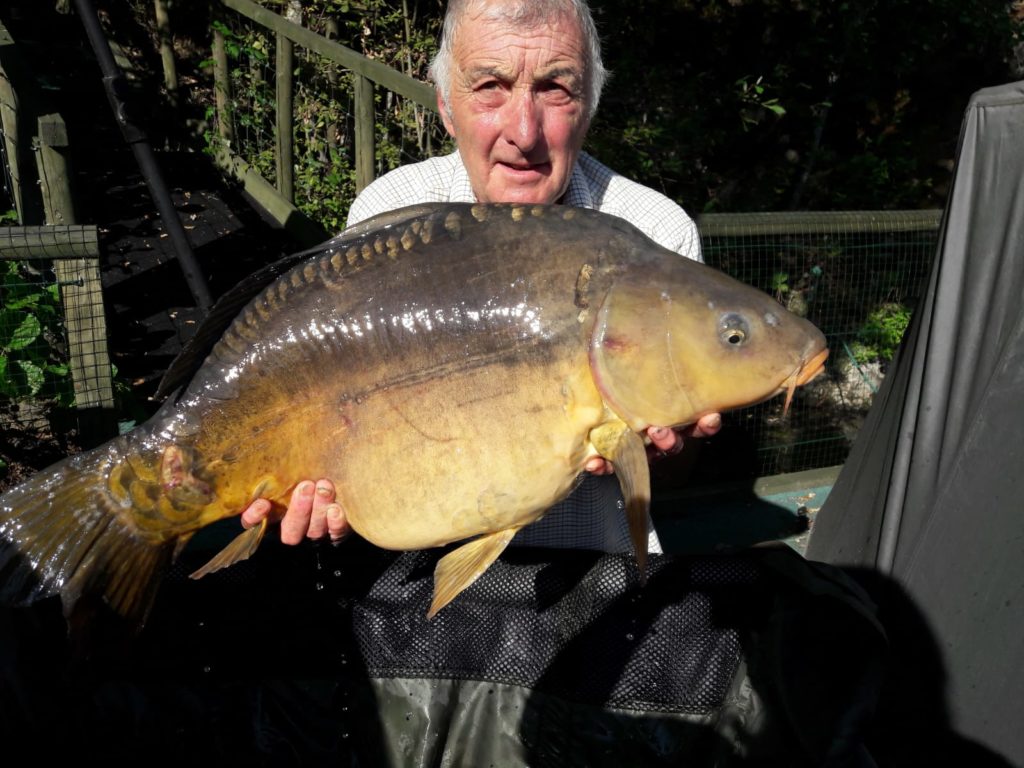 There are 3 x single swims and one double swim at Quarry Bank, we occupied the single swims and insisted on Neil the owner going and having a few hours in the double swim to show us up. He did, it seems he can almost catch the carp to order.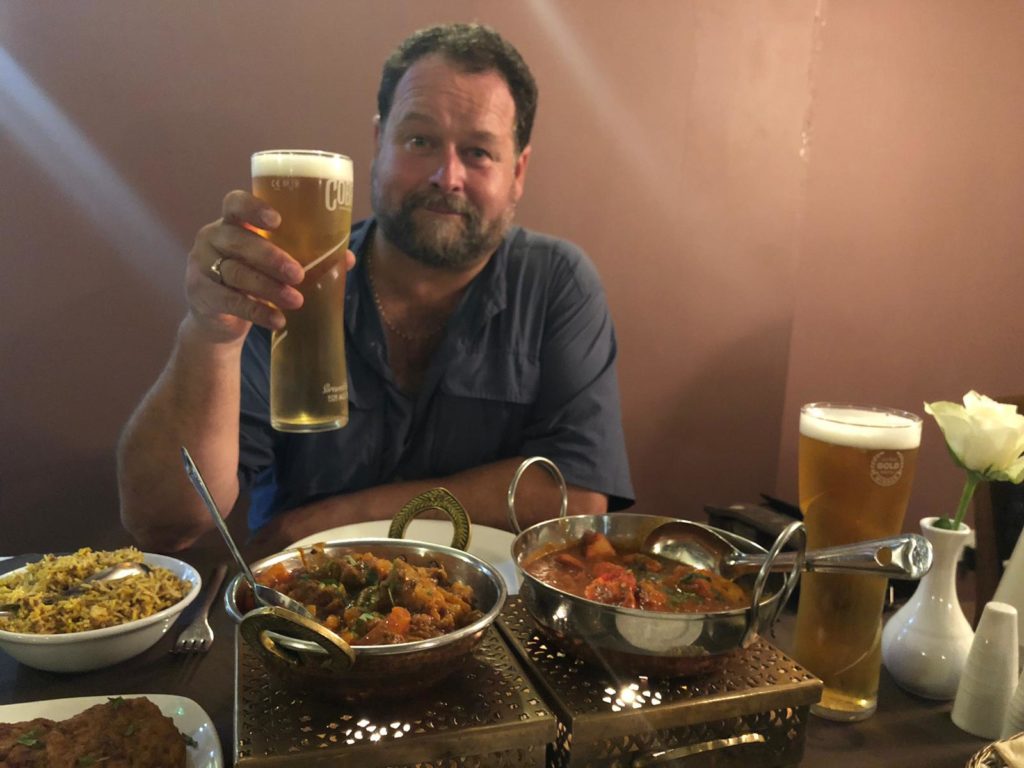 Back home in good old Blighty, Fennel and myself found the nearest Indian restaurant to the airport and finished our holiday reminiscing over a curry.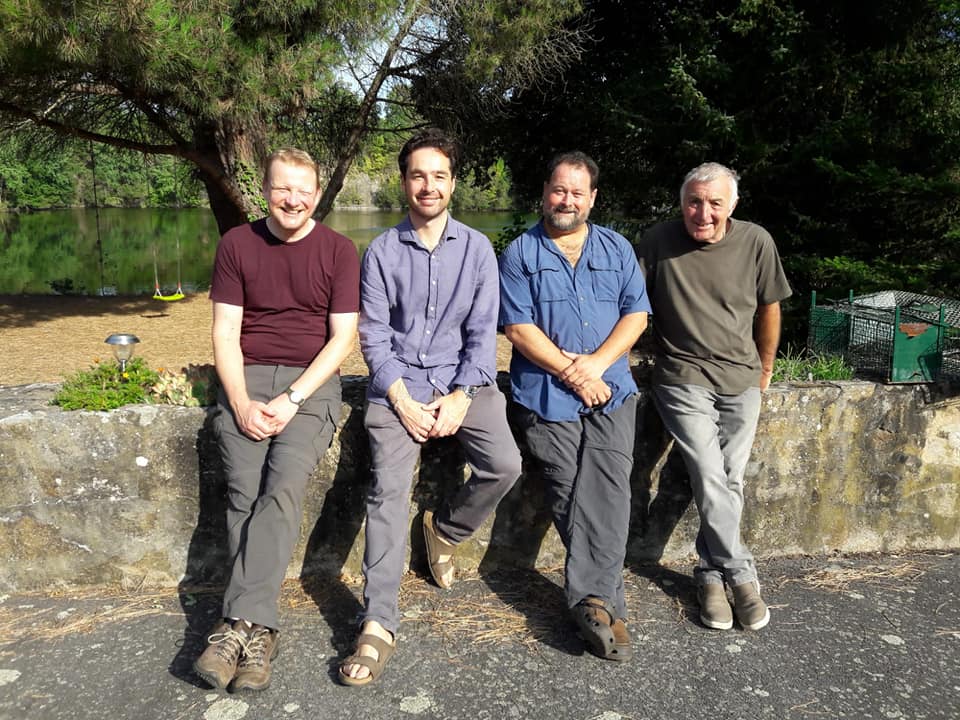 Great venue, great company and absolutely superb hosts in the most tranquil setting you could possibly imagine, now where is that flight timetable?
Best fishes
Shaun Harrison